WHAT TO DO IN AN EMERGENCY
WHAT TO DO IN AN EMERGENCY
Paralysis in a dog is a medical emergency!
Sadly, the first time a lot of owners become aware of IVDD is when their dog becomes paralysed/struggles to walk, and/or stand or has a very pronounced hunch with crippling pain. If you are ever faced with this awful situation, we recommend you take the following action:
1. CRATE YOUR DOG
RESTRICT ALL MOVEMENT AND KEEP YOUR DOG SAFE
If you don't have a crate either a play pen, bassinet/cot, cosy closet or small room will suffice to ensure your dog does not over exert himself and aggravate his condition. Keep your dog comfortable with blankets and a bed that is not too spongy to lie on.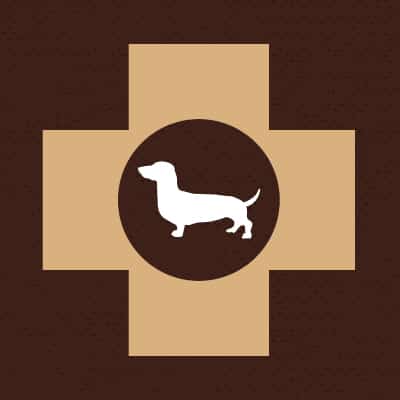 2. URGENTLY SEEK VET ASSISTANCE
VISIT YOUR REGULAR VET OR HEAD STRAIGHT TO YOUR EMERGENCY CLINIC
Do not delay or wait until morning/Monday/a better time – paralysis is a serious medical emergency that requires immediate medical attention.
3. REQUEST A REFERRAL
REQUEST A REFERRAL FROM YOUR VET FOR YOUR DOG TO SEE A SPECIALIST URGENTLY
If your dog is displaying the warning signs or symptoms of a disc episode, it is paramount that you urgently seek the opinion of a specialist vet. Dogs who are seen to by specialists within the first 24 hours of becoming paralysed are given a higher chance of regaining the ability to walk. Delaying specialist treatment may increase your dog's chance of a disc rupture and possible permanent paralysis.
4. DECIDE ON A TREATMENT PLAN
UPON VISITING THE SPECIALIST, YOU CAN DECIDE ON THE BEST OPTIONS FOR YOUR DOG
To obtain a correct diagnosis the specialist will conduct a thorough neurological assessment of your dog and advise the options available. You can then decide whether surgery or conservative treatment is suitable and start a pain management program.
5. THE CRATE IS YOUR MATE
ONCE HOME, ENSURE YOUR DOG STAYS CRATED AND IMMOBILE WHILE RECOVERING
Crate rest is absolutely vital for all dogs suffering from a disc episode. Whether your dog is recovering from surgery or the paralysis is being treated conservatively, ensuring your dog dilligently remains on bed rest (crate rest) for a mimum of 6-8 weeks is the most important step to providing your dog the best chance to regain the ability to walk.
Things you need to report to your Vet
Take a screenshot or print off this list and take to your Vet
When did the clinical signs start?
If he/she is paralysed, when was the last time voluntary motor function was present?
Is he/she posturing to urinate?
Are they able to urinate?
Has there been any previous history of these episodes?
Has there been a response to medication, including pain relievers or anti-inflammatories?
Have they been able to pass stools normally? If so, when was the last time?
If he/she is on pain medication, have stools been black or bloody?
Has there been any vomiting?
Download this helpful First Aid Sheet for a step-by-step guide about what to do in an emergency.
Disclaimer: This first aid advice is an extract from The IVDD Handbook shared with permission from the author, Dr Marianne Dorn